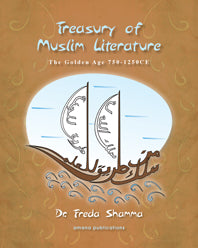 Treasury of Muslim Literature
The Golden Age 750-1250CE


Dr. Freda Shamma

Paperback (8x10)
360 Pages    
 Why are dogs superior to some who wear clothes? What strange burial practice did the Vikings have a thousand years ago? Why are the two dispositions, anxiety and worry, as hurtful when present in excess, as the scarcity of them? Can a man living alone discover God without a revelation? Why is that fool riding backward on his donkey? A thousand years ago Muslims wrote on these and hundred of other topics. During their golden age of literature, Muslims wrote about everything including poetry, theology, spirituality, philosophy, geography, history, political science, sociology, psychology, belle letters, biography, autobiography and memoirs. And that doesn't even include the science, mathematics, and medical science which are not represented in this book.

Among the authors who are represented in this Treasury of Muslim Literature are al-Shafi'i and al-Bukhari (theology); al-Jahiz and al-Hariri (belle letters); al-Tabari, al Mas'udi, and Nizam al Mulk (history and political science); Ibn Sina and al-Razi (autobiography and psychology); Ibn Tufayl (philosophical novel) and Umar al-Khayyam (poetry). And who is that wise fool who keeps popping up?

The Treasury of Muslim Literature is an introduction to a literature that too many of us are ignorant about. It is also an overview of the Muslim world's literary excellence that students in secondary and tertiary education should be exposed to.
---

About the Author


DR. FREDA SHAMMA is an educator who has worked on developing Islamic curriculum on three continents. She received her MA from the University of California, Berkeley, and her EdD from the University of Cincinnati. She has traveled widely collecting Muslim literature from as far away as China, and as close as the nearest used book store. 
She has been a book content editor for American Trust Publications, and has long been active in the educational activities of the Islamic Society of North America which, in 2010, honored her life commitment and service to Islamic Education.
She is the co-editor of Ayat Jamilah: Beautiful Signs, a book of Islamic wisdom for children, and has contributed to both Muslims and Islamization in North America: Problems and Prospect, andMuslim Women Activists in North America. 
Dr. Shamma currently lives in Cincinnati, Ohio with her husband Dr. Mohammed Shamma. They have five children and twelve (and counting) grandchildren. She is the Director of F.A.D.E.L. (Foundation for the Advancement and Development of Education and Learning) and has established the FADEL Islamic Library in Cincinnati