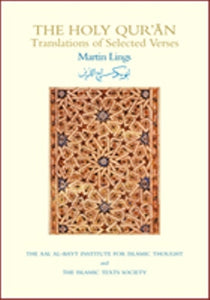 [The Holy Qur'an Translations of Selected Verses] The Holy Qur'an
Translations of Selected Verses
Martin Lings
The renowned scholar and Sufi master, the late Dr Martin Lings (Shaykh Abu Bakr Siraj ad-Din) was working on a full translation of the Qur'an when he passed away. The Aal al-Bayt Institute for Islamic Thought, who had commissioned Dr Lings to translate the Qur'an, and the Islamic Texts Society were granted access to his papers. The Publishers extracted from these previously unpublished writings, and from all his other publications, his translations of verses from the Qur'an. These are here presented as The Holy Qur'an: Translations of Selected Verses accompanied by the original Arabic text on facing pages. Among the translations are the all-important first chapter of the Qur'an (al-Fatihah); full translations of the Chapter 'The God of Mercy' (ar-Rahman) and ten other Chapters including the often-repeated last three; the Verse of Light (ayat an-Nur); verses from the Chapter entitled Ya Sin which is regarded as 'the heart of the Qur'an'; and numerous other verses from seventy-six other Chapters. In addition, there is an appendix of Dr Lings' translation of the Ninety-nine Beautiful Names of God with the original Arabic and transliteration; and a cross-referenced index which is intended to work as a minor concordance.
For all those wishing to learn about the Qur'an, for non-Arabic-speaking Muslims, for students of Arabic and translation, for scholars of Islamic studies, The Holy Qur'an: Translations of Selected Verses is a short and accessible introduction with the additional benefits of the profound learning of an eminent scholar and the beautiful language of a published poet. Dr Martin Lings is the author of among others Muhammad: His Life Based on the Earliest Sources, What is Sufism?, A Sufi Saint of the Twentieth Century, The Book of Certainty and Sufi Poems.