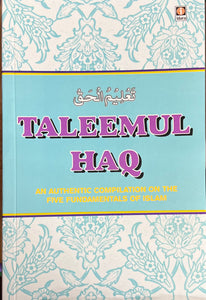 [Ta'leemul Haq] Ta'leemul Haq
An authentic compilation on the five fundamentals of Islam.
softback 
A basic Hanafi textbook on the laws of taharah, salat, janazah, haj, etc, used widely throughout the Islamic schools of U.S.A, England and South Africa. It's a perfect book to start learning Hanafi figh in an easy and systematic way. The drawing helps the reader understand the subtleties of the Fiqh.