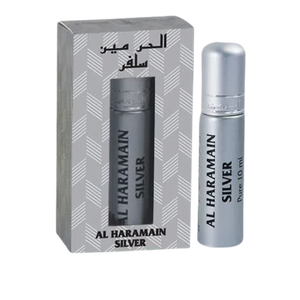 A new pure perfume range introduced by by Al Haramain in a newly-designed ml bottle. Quality, long-lasting, alcohol-free perfume oil.
With roll-on and screw cap. Comes in a handy pocket sized flip case.
Second to none
A sultry, warm, spicy fragrance to cherish, it has so many changing notes throughout the day that it feels like an exotic cocktail for the senses. An absolute pleasure for yourself and an object of envy for those around you, this one is a compliment getter. Wear the compelling aroma of Al Haramain Silver, and prepare to get followed.