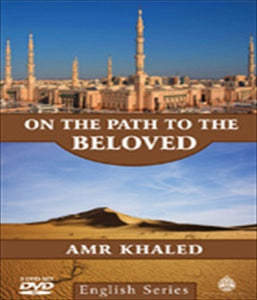 ON THE PATH TO THE BELOVED 5 DVD SET
Presented by the world-renowned Islamic scholar, Ustadh Amr Khaled, this is one of the greatest series on the life of the Prophet Muhammad available in English. These professionally recorded lectures in DVD format takes an in-depth and reflective look at the life of our Beloved Prophet. The unique approach of Ustadh Amr Khaled takes the listener back fourteen hundred years on a journey of a lifetime.
Biography of the scholar
Ustadh Amr Khaled is an Egyptian Muslim activist and preacher. He began preaching in Mosques at a young age and now uses satellite TV as his main vehicle. His lectures are popular and are distributed over the Internet as well as on cassette tapes. Ustadh Amr Khaled reaches out to college-aged Muslim Arab youths and aims to present Islam in a modern context. His Right Start Foundation and Life Makers initiative have shifted his work from simply teaching to initiating community development projects.