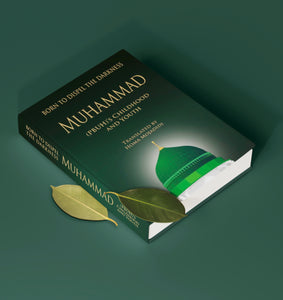 Note from Shawakat Al-Tuni:
"I was held captive for a long time by my own weakness. It was a very weighty endeavor for someone as insignificant as me to write about someone great like you. Therefore, I became anxious whenever I intended to begin this work, and whenever I began, I was plagued with doubts. I paused whenever I took a step forward until my children, who were studying in various secular institutions, requested me to tell them about you. I sat with them at night and told them stories about you. When I finished telling my stories, I saw tears flowing from their eyes, out of the love that they had for you in their hearts. When I saw that my children, who were a small part of your large community, longed to hear your stories, I wanted to present the fruit of my love and deliberations about you—our beloved and blessed Prophet—to all the Muslim and non-Muslims, the Arabs and the non-Arabs alike, so that I could shed some light—however small—on one aspect of your childhood and early life."
- Shawakat Al-Tuni
While there are many biographies of Prophet Muhammad (PBUH), this book uniquely provides vivid and appealing details about his childhood and adolescence—prior to his prophethood—in which we hear Prophet Muhammad speak, interact with people, witness his emotional reactions to important events, and watch him resolve conflicts, as well as various moral and spiritual dilemmas that he encounters, thus providing a detailed personal portrait of him as a child and a young man.