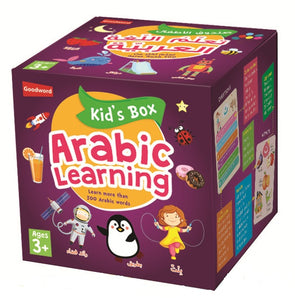 Learn Arabic Words & Develop Observation Skills
Perfect for encouraging children to build vocabulary and language skills, Kid's Box: Arabic Alphabet helps children grasp basic Arabic words, their formation, meaning and usage. Children will love 
discovering and learning new words to build Arabic vocabulary in a fun way while playing various games.
A card game for 2 and more players
Suitable for children 3 years and above
Learn more than 300 Arabic words
Improves memory and concentration skills
A simple, fun-filled and educational game
Challenge your brain in just 15 minutes
Full of fun illustrations
A perfect boredom buster for children
Includes words from topics such as animals, home, school, fruits, and transport.
Includes 56 double sided cards and a dice.