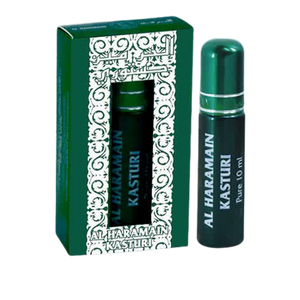 Perfume oil Kasturi by Al Haramain - A deep, classic, warm and spicy fragrance.
Bright and alluring as the summer sun, the perfume opens with a fruity wave, in which then enter the fresh, floral scents of the middle note. Fine woody nuances form the silky statements.
The main note form at Kasturi mandarin, violet leaves and lychee, maritime scents, rosewood, orange blossom, rock rose, mint and jasmine provide the means touch. Precious woods, warm amber, sandalwood, musk and benzoin are the soft, silky base.
Kasturi - A perfume full of character and uniqueness.
The practical bottle has a roller for applying the perfume oil.
Recommendation: For men and women
High quality perfume oil by Al Haramain; perfume free from alcohol
10 ML
Unisex