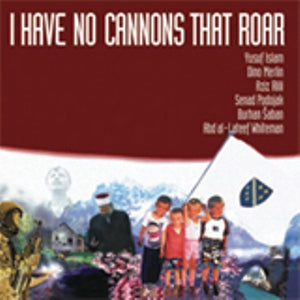 I Have No Cannons That Roar
Yusuf Islam, Dino Merlin, Aziz Alili,
Burhan Saban & Abd Al-Lateef Whiteman
This album is dedicated to the memory of Dr Irfan Ljubijankic who was sadly killed towards the end of the Bosnian war in 1995 when the helicopter he was flying in was shot down by a Serb rocket. He had been visiting his beloved home town of Bihac, at that time the front line against the attacking forces. A few months earlier in his role as the Foreign Minister of Bosnia he had been in London. Whilst there he met Yusuf Islam to whom he gave a rough cassette of a song he had written and recorded at home, entitled 'I Have No Cannons That Roar', the title track of this album. His hope was that Yusuf would use it in some way to help the Bosnian cause. The song was subsequently translated into English and combined with other songs famous in Bosnia during the war. Some of the songs are included here without change, but heard here for the first time on CD; others were re-recorded in London and Stuttgart together with two new songs specially written for this project by Yusuf.