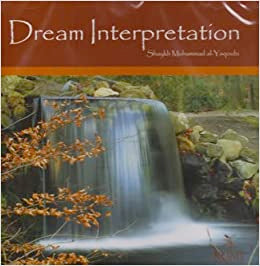 Dream Interpretation
By: Shaykh Muhammad al-Yaqoubi
This amazing speech on Dream Interpretation was delivered in Bradford England by Shaykh Muhammad al-Yaqoubi. Being an authority on Dream Interpretation Shaykh Muhammad gives guidelines on how to interpret them. If you have ever had a dream and didn't fully understand it, this CD is a must. Here are the track titles for this CD.
Tracks
1. The Dreams of the Prophets
2. The Three Different Types of Dreams
3. Who Should Interpret Dreams: The Pre-Requisites of a Dream Interpreter
4. How to Interpret Dreams from the Holy Qur'an
5. Referring to the Hadith in Dream Interpretation
6. The Dreams of the Sayyiduna Muhammad Sallallahu alaihi wasallam
7. Guidelines for dream interpretation
8. Common Nightmares and Their Real Meanings
9. How to See a Good Dream: Prepare Yourself
10. Du'a to Protect Yourself from a Bad Dream
11. The Importance of the Details in the Dream and the Time You Saw it.
12 Dreams Criminals See May Reveals Their Crimes
13. How the Environment Affects Your Dreams
14. Do not Make up Dreams
Total Running Time (74:57)