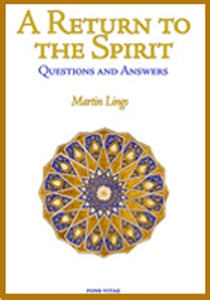 A RETURN TO THE SPIRIT
Questions and Answers
Dr.Lings answers various questions posed to him relating to his life, Islam, Sufism, Religion and Spirituality.
Martin Lings
Inna lillahi wa inna ilayhi raji'un
Foreword by H.R.H. The Prince of Wales
Introduction by Huston Smith
Paperback 200 pages
This final work of the greatly revered Martin Lings opens with an insightful autobiographical account of his own interior journey, the finding of a spiritual master, and the conclusions he ultimately reached regarding the inner life and Islam. The 96-year-old author, a respected British scholar, recounts the lessons learned from his life as a practicing Sufi, including the answers to profound questions such as: How did I come to put First things First?, What is the Spiritual Significance of Tears and Laughter?, What is the Spiritual Significance of Civilization?, What is the Qur'anic Doctrine of the Afterlife and How is it related to Sufism?, and Why "With All Thy Mind"?